Humane Education | Camps | Classes | Youth Group Opportunities | Academic Community Service | Read To A Dog | Birthday Parties | Classroom Visits
At the Humane Society of Sonoma County we offer a variety of exciting youth programs that not only educate children and teens about compassion, responsibility, respect, animal related careers, and safety and care of animals, but also foster a spirit of cooperative team building, a commitment to community and the human animal bond. Each program is designed with fun, age appropriate lessons and activities that promote critical thinking, teamwork, patience and kindness towards all living things.
Raise funds on behalf of the Humane Society of Sonoma County
Host a fundraising pizza and movie night or sleep over. Make some fun pizzas, grab your favorite animal movies and enjoy time with friends all while helping animals. Ask your guests to bring a donation for the Humane Society of Sonoma County as their contribution.
Make donation containers and place them in classrooms at your school or local businesses your family frequents to collect donations then schedule a time with Kathy Pecsar, the Humane Educator, to present the raised monies.
Have a school wide bake sale/lemonade stand to raise donations. Track the hours you spent on this project and have Kathy Pecsar, the Humane Educator, sign off on your project.
Share your birthday – Birthday parties, holidays and other typical gift-giving occasions can become great fundraisers. Let your family and friends know that you'd prefer a donation to the Humane Society of Sonoma County this year rather than a gift.
Clean out the closets and garage – Organize your own or a neighborhood garage or yard sale and donate the proceeds to the Humane Society of Sonoma County.
Hold a recycle campaign at school; have students at school bring their recycled aluminum, glass, and plastics and redeem them for cash to donate to the Humane Society of Sonoma County.
Is someone in your family a business owner (or know someone who is)? If so, they may consider donating a percentage of their daily sales to the Humane Society of Sonoma County. Let the customers know that a portion of their purchase is going to help animals in need.
Collect new and gently used towels and blankets for bedding for the animals.
Make a product to sell, such as thank you cards or other items to raise donations for the Humane Society of Sonoma County.
Host a Food Drive for our Pet Pantry! The Humane Society of Sonoma County's Pet Pantry provides pet food and supplies to people in our community so they can continue caring for their pets despite economic hardship. Providing basic necessities helps keep pets in their homes and out of the shelter. The Pet Pantry relies entirely on donations from the community.
Download the Pet Pantry Food Drive Toolkit to learn how to host your own food drive! We've also got social media images to help you promote it! Here's an Instagram image, a Facebook image, and a Facebook Header image. Questions? Call us at (707) 577-1902 x276.
Your gift gives hope to every animal at the Humane Society of Sonoma County. When you donate, you help us provide medical care, training, rehabilitation, and adoption services for animals who need us. And that makes you a true hero! If you would like to purchase items with the funds your raised we do have an Amazon.com Wishlist where you will find items we use to care for our animals on a daily basis.
Junior Animal Attendant (ages 10–18)
Want to help the Humane Society of Sonoma County and spend time behind the scenes learning about and caring for animals? Need to earn community service hours for school and love animals? Be a Junior Animal Attendant during our Saturday Workshops! This is a wonderful opportunity for you to become active in your community on behalf of animals!
Spend a Saturday helping animals and learning about responsible pet ownership while working behind the scenes at our animal shelter. Attendants will help clean cat habitats, work at the on-site farm sanctuary and spend time socializing animals. Fulfills academic community service requirements for school.
Workshops are offered one Saturday each month for 5 hours, 9am–2pm.
Cost
$50.00 per Saturday.
Other Requirements: Must be between the ages of 10–18. Space in this program is limited. Interested students should be enthusiastic, have respect for animals, and be able to follow instructions. Please wear closed-toe shoes with rubber soles, long pants, and a t-shirt. Part of the day is spent outdoors and in our barn area (rain or shine) so your clothes and shoes may get dirty. Bring a lunch. Due to the nature of our business, with constant exposure to animals and their allergens, our education programs are not recommended for children/teens with known allergies. Participants are expected to be self-supporting to participate in all physical and academic activities planned and/or required by department position duties. Because of staffing restrictions we may not be able to accommodate special individual needs.
Registration for Fall and Winter dates will be opening soon. Please continue to check back. Questions? Please contact Kathy Pecsar at (707) 542-0882 x 276 or kpecsar@humanesocietysoco.org.
Apply to be a Volunteer Junior Camp Counselor! (8th–12th graders)
Do you love kids and animals? Are you looking for a way to give back this summer while having fun? We are looking for mature and responsible High School students to volunteer as Junior Camp Counselors for our super popular summer camps! Fill out the application, linked below, if you are a team player who is comfortable with elementary age children and a variety of animals, have excellent leadership skills, and are outgoing with great communication skills! The camps run all summer, Monday – Friday, 9am – 3pm and we're looking for at least a three week commitment. We just have a couple of openings, so fill out the application today if you are interested!
The Jr. Counselor positions have been filled for this summer.
Email any questions to Kathy Pecsar at kpecsar@humanesocietysoco.org.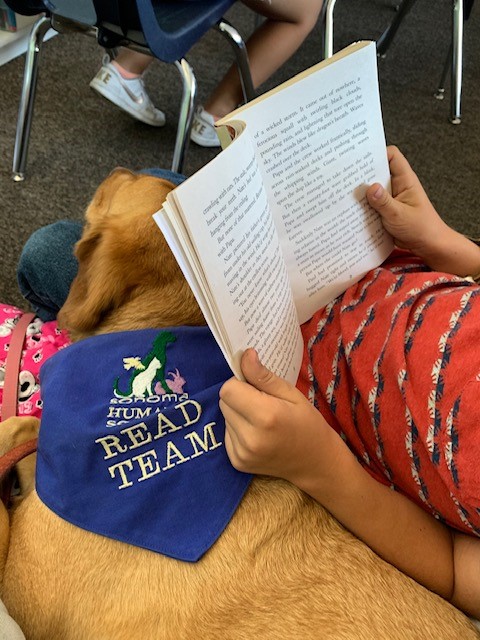 We are not currently offering Read to a Dog due to CDC guidelines.
Kids of all ages, pre-readers to high school students, have the chance to spend quality time sharing the joy of books, reading and dogs.
Benefits of Reading to a Dog
Dogs don't judge, laugh or criticize
Dogs allow children to proceed at their own pace
Dogs reduce anxiety and are less intimidating than peers
Dogs increase interest and motivation in reading
Dogs help students gain confidence and self esteem
Dogs provide companionship and friendship while learning something new
Dogs can help students improve decoding, vocabulary, reading fluency and comprehension skills by making reading relaxing, fun and furry!
LOCATIONS
Central Santa Rosa Library
Saturdays 11am–12pm
211 E Street, Santa Rosa
(707) 545-0831 x 538
Sebastopol Regional Library
Wednesdays 3:30–4:30pm
7140 Bodega Ave, Sebastopol
(707) 823-7691
At your School
We support elementary students in our local public schools by placing certified pet assisted therapy dog teams in classrooms to cultivate a joy of reading that improves their reading skills.
Educators interested in implementing the Read to a Dog Program in your classroom click here.
Dog owners interested in becoming a Humane Society of Sonoma County Animal Assisted Activity* volunteer for the Read to a Dog Program click here.
Dog owners interested in certifying your dog for the Read to a Dog Program click here.
*Animal Assisted Activities Dogs and their handlers must complete a (CGC) test in addition to our therapy dog screening which may include additional training and observation in the therapy setting for therapy specific behaviors. 
Tours of Our Facilities
We are not currently offering tours due to CDC guidelines.
We offer Humane Education Tours to youth groups*.
Tours and educational visits are offered to schools and children/youth groups of 15 and a maximum of 30 youth with 1 adult chaperone per 5 youth. Tours include a 60–90 minutes behind the scenes look at our shelter operations, veterinary hospital, possibly a visit with a cat or dog, and a humane education lesson. Cost is $5.00 per person.
Youth tours are scheduled September through the first week in December and January through first week in May, Monday–Friday, depending on availability.
Please schedule in advance to ensure availability.
During the summer and winter break, the Humane Society of Sonoma County offers our Animal Adventure & Education Camps and Career Teen Camp for youth.
*Children must be 2nd grade or older.
Please contact Kathy Pecsar at (707) 542-0882 x 276 or kpecsar@humanesocietysoco.org to book a tour.
Youth Group Volunteer Opportunities
We are not currently offering services to on site youth volunteers due to CDC guidelines.
Are you interesting in volunteering with HSSC with your youth organization?
If you answered yes, The Humane Society of Sonoma County would love to have your group here for a youth group volunteer day! During this volunteer day, your group will spend an afternoon at the shelter and assist in our daily operations that help the shelter to run smoothly, which include cleaning the shelter animal habitats, assisting with socializing behaviorally appropriate shelter animals, and working off-site at our partner organization, Forget Me Not Farm. Youth group volunteer days are limited to 20 group members at a given time. There is no specific fee for youth group volunteer days, but we would kindly request a charitable group donation.
If you are interested in having your organization come to HSSC for a youth group volunteer day, please contact Kathy Pecsar at (707) 542-0882 x 276 or kpecsar@humanesocietysoco.org.