Spay/Neuter Clinic Happy Tails
Our accessible, low-cost Spay/Neuter clinics are targeted to help our community members who would not otherwise be able to have their pets spayed or neutered. In addition to spay/neuter surgery, all pets receive a pre-surgery exam, vaccinations and a microchip. For many pets, this is the first time they receive veterinary care. Last year, 1,869 owned pets were spayed and neutered at our Low-cost clinics and 421 through our Community Veterinary Clinic. Additionally, 817 shelter animals were spayed and neutered before adoption. That's a total of 3,107 animals (and their guardians!) who are doing their part to help us end animal homelessness and curb the capacity crisis in local shelters and beyond!
Supporting our Spay and Neuter Program provides affordable spay/neuter clinics for our low-income community members – people who also love their pets and want to prevent future generations of animals left vulnerable to homelessness in Sonoma County.
This program is generously funded by the
Ted and Joyce Picco Endowment Fund and the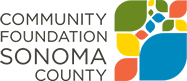 Thank you for joining the Community Foundation Sonoma County and the Ted and Joyce Picco Endowment Fund to help us meet the demand for these critical services, your donation is greatly appreciated.
Low Cost Spay/Neuter Clinic Happy Tails