HSSC In the News
HSSC's Director of Veterinary Operations Albert Escobedo receives a shout out in "Something to Wag About" in the recent issue of California Veterinarian!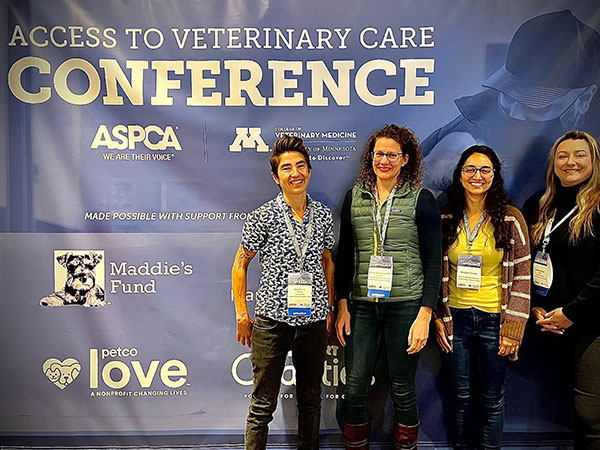 We are proud of HSSC's very own Executive Director Lindsay McCall, Dr. Ada Norris and Melina Stambolis for presenting at the first annual Access to Veterinary Care conference held by the ASPCA! Speaking alongside co-presenters on the panel, "Sheltering Organizations Increasing Access to Veterinary Care", Lindsay, Ada and Melina discussed HSSC's approach to providing safety net veterinary care to our local community through our Community Veterinary Clinic and Spay/Neuter Clinic. Thank you to the ASPCA for inviting us to take part in this exciting opportunity!
Purr-fect Pairing: Cats and Wineries Create 'Win-Win Situation'
Animal lovers come together to raise money for the Humane Society of Sonoma County
Helping where it's needed most: CVM alumna runs urgent care clinic for low-income families
Sonoma Magazine, 4/20/20: Shelter in Place Order Spurs Increase in Local Pet Adoptions
Santa Rosa's Humane Society to provide affordable pet care with new Community Veterinary Clinic
Humane Society of Sonoma County's secret weapon: pet bios
7 Charities Helping Victims of Recent Disasters 
Pets And People Are Joyously Reuniting After California Wildfires
Displaced Sonoma County residents keep up search for animals lost in fires
North Bay pets fill animal shelters
Rescuing animals across fire lines, inside shelters
More than 100 pets still at shelters after North Bay wildfires
5 heartwarming stories of pets who survived the deadly California fires
Missing cats after North Bay fires found, up for adoption
These Stories About Pets And Animals Being Helped During The California Fires Are So Heartbreakingly Sweet
Amid Sonoma's ashes, family is overjoyed to find their dog Izzy — alive, well and wagging her tail
Sonoma Humane Society opens free wellness clinic, urges reporting of lost and found pets
Sonoma Humane Society offering free, basic, burn care for pets
Humane society looks to help cat with singed whiskers, other pets lost in North Bay fires
For some, this holiday is all about the Easter Bunny
Member Spotlight: Sonoma Humane Society
Healdsburg Center for Animals Begins a New Life
True Love: Adopt a special-needs pet from Sonoma Humane Society
Sonoma Humane Society Announces Executive Director 
Sonoma Humane Society aims to open new Healdsburg animal shelter by spring
Karmann Ghia Does Good for Homeless Animals
Princess Fiona Huffington Post
Good News for Healdsburg Animal Shelter
Lapphund Rescue Press Democrat
A Lifesaving Partnership: Sonoma Humane Society & Petaluma Animal Services Foundation Awarded Healdsburg Sheltering and Animal Control Contract
Landmark Agreement Brings Hope and Second Chances to County Animals
Best Sonoma County Non-Profit 2013 Press Democrat
Press Releases
Humane Society of Sonoma County Expanding Safety Net Services to Support Local Pet Guardians
Senior Dogs at the Humane Society of Sonoma County's Community Veterinary Clinic Fetch Grant
National Nonprofit Petco Love Invests in the Humane Society of Sonoma County to Save and Improve the Lives of Pets in Sonoma County
PetSmart Charities Grant Improves Access to Veterinary Care
Sonoma Humane Society Announces Executive Director 
North Bay No-Kill Shelters Save Shelter Pets Displaced by Rocky Fire
Position Statements
Predator Control Statement Sept 2014
Aversive Dog and Animal Training_Jan 2014
North Bay Pets Magazine
Published twice annually, summer and winter, North Bay Pets showcases our progressive support for pets and people in our community.