Keep your pet safe with microchipping!
It only takes a minute for your pet to slip out of an open door or gate and into a dangerous and potentially heartbreaking situation. Thankfully, it only takes a minute to make sure your pet is chipped and that your contact info is current!
Does your pet need a microchip? We offer them at no charge at our free vaccine clinics! Please call for more info – Santa Rosa (707) 542-0882 or Healdsburg (707) 431-3386. Our free vaccination clinic is open on the 1st and 3rd Wednesday of each month at our Santa Rosa Shelter.
Unsure of your pet's microchip number? Call your vet's office as they may have it in their records OR bring your pet into the vet's office, animal control, or an animal shelter to be scanned. (Pro Tip: make a note of the microchip number on your phone for easy retrieval should your pet ever become lost.)
Update your contact info! Look up your pet's microchip number on the AAHA Universal Pet Microchip Lookup site, or check with my24pet.com. If your pet is registered, it will tell you where the chip is registered and how to update your contact information if necessary.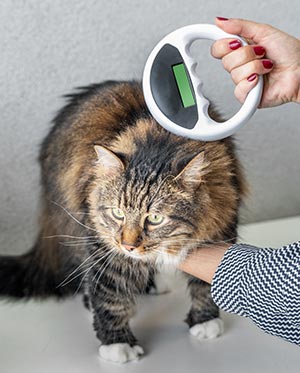 Zen And The Importance Of Microchipping
Sweet little Zen showed up at our Healdsburg Shelter as a stray last month. He probably knew he didn't belong there, he just didn't have a way to tell us. Luckily, his microchip could do the talking for him! Our team was able to scan his chip and contact his owner to let her know that he was safe with us. As you can imagine, both pup and person were incredibly happy and relieved to be reunited!
Zen represents a minority. As Karrie Stewart, HSSC's Senior Manager of Santa Rosa Adoptions and our Healdsburg Campus says, "28% of the animals who've arrived at our shelter in 2023 have had microchips. The remaining 70%+ were not microchipped when they arrived. Unless owners are actively calling and searching for their pet, we have no way to reach them."
According to Cornell University Shelter Medicine, only 2% of cats and 30% of dogs are returned to their owners when they are lost. With a microchip, that number can increase to 40% for cats and 60% for dogs. About the size of a grain of rice, a microchip is a device that is typically implanted between the animal's shoulder blades. The chip is not a GPS tracker but contains a registration number and the phone number of the registry for the particular brand of chip, which is scanned by the shelter when an animal is found.
But microchipping is just the first step. Keeping your pet's microchip registry updated with your contact information is the most reliable way to make sure your pet can find their way home. As Karrie Stewart shares, "it can be really hard to re-unite them with their owner if the information is not up to date. If you move or re-home your pet with a friend or family member and the pet gets lost." Be sure to microchip your pet and keep the information up-to-date, it could save your pet's life someday!