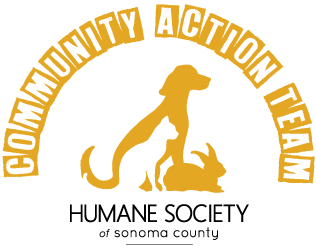 A little help for friends in need
The Community Action Team (C.A.T.) is a response to the growing call for help from people in our community who struggle to meet their pet's needs.
We are here to help pets and their families stay together and nurture the human/animal bond within our community. We provide equal access to pet food and supplies, low-cost preventive care, education, as well as connections to other resources in our community. Our Pet Food Pantry provides free dog and cat food to local pet owners when they need a little extra help caring for their beloved pets. This service is supplied only through donations and is proving essential, now more than ever, due to rising costs and uncertain times. Your donation helps fight hunger for Sonoma County pets.
THANK YOU – your kindness is very much appreciated!
COMMUNITY ACTION TEAM GOALS:
Assist our community with compassion and care through our direct services
Find partners that share our values and our mission to help neighbors in need
Collaborate with other animal welfare organizations to maximize access to resources
Nurture the human/animal bond with safety net programs that minimize pet surrenders to local shelters and help pets and their families stay together
Reduce pet-related barriers that limit access to housing
Encourage community involvement to help neighbors and their pets
Provide access to animal welfare education for communities with limited resources
Need Food?
We're here for you! If you are in need of help, please visit us at our one of our shelter locations during business hours, or come see us at the Russian River Food Pantry, or the Esperanza Mobile Clinic.
Humane Society of Sonoma County
Santa Rosa Campus
5345 Highway 12 West, Santa Rosa, CA 95407
Hours: Tues. – Sat.: 10:00 am – 6:00 pm, Sun.: 10:00 am – 5:00 pm. Closed Mon.
Healdsburg Campus
555 Westside Rd., Healdsburg, CA 95448
Hours: Mon. – Sat.: 9:00 am – 5:30 pm. Closed Sun.
Russian River Food Pantry
Address: 16290 5th St, Guerneville, CA 95446
Dates: Sept. 23rd, Oct. 28th, Nov. 18th and Dec. 16th from 9am – 12pm
C.A.T. at Esperanza Mobile Clinic!
Our Community Action Team (C.A.T.) will be at the Compassion Without Border's Esperanza Truck Mobile Wellness Clinic the second Saturday of each month through November. For more information, please visit their website.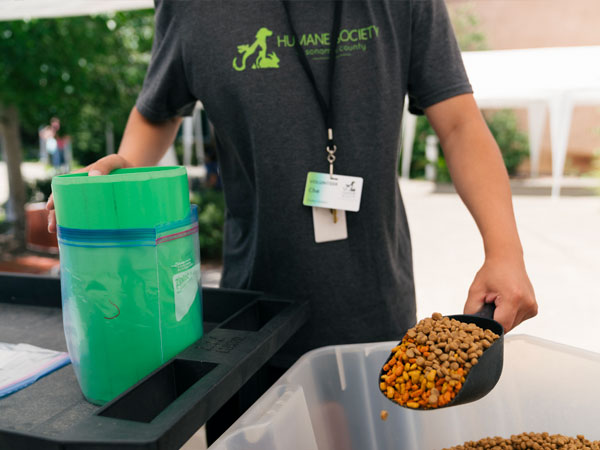 Got Food?
We'll take it! Bring your donations to either of our shelters during regular business hours. Thank you for being a Humane Hero! Check out more Humane Heroes on our Wall of Love!
Pet Food Donations
Any brand dry cat and dog food (opened is ok)
Any brand wet food (unopened cans/containers only please)
Unopened cat and dog treats
Pet Supply Donations
Hard rubber activity dog toys (ex. Kong Wobbler, Nylabone)
Gently used collars and leashes. We do not accept shock, prong, flea, or choke collars.
Litter scoops
Cat litter (any brand)
Cat toys
Gently used cat & dog beds
Find more donation items on our shelter wishlists!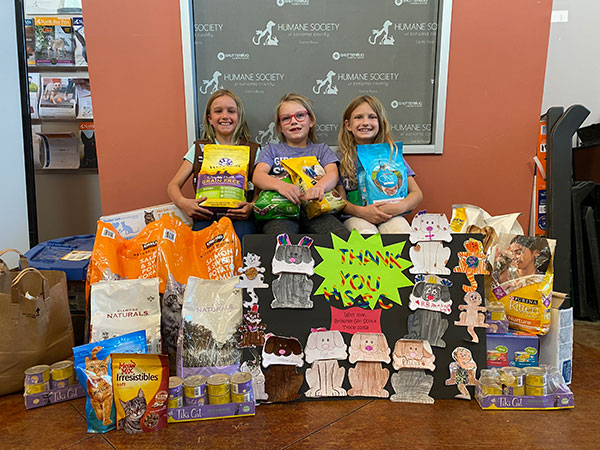 C.A.T. es una respuesta al llamado de ayuda de gente en nuestra comunidad para las necesidades de su mascota.
Necesita ayuda con su mascota?
C.A.T. (Community Action Team) estamos aqui para ayudar!