Thank you for your interest in fostering!
Fostering Saves Lives!
Fostering animals is a wonderful and personal way to contribute to saving homeless pets. Foster volunteers provide care for shelter animals that are too young, sick or stressed to be available for adoption from the shelter. By being a pet foster parent, you provide a temporary home for an animal who might need the peace and care of a home environment to recover and thrive. We could not do what we do without the help of caring and dedicated fosters. By fostering for HSSC you will help us save lives!

For more information, please call us at (707) 542-0882 x201 or email Katie McHugh, Volunteer Coordinator at kmchugh@humanesocietysoco.org.
What I enjoy most about fostering is seeing a dog that is not doing well in a shelter environment transform into the joyful and loving creature he is meant to be.
Q: What do fosters do?
A: Our fosters provide care for shelter animals that are too young, sick or stressed to be available for adoption from the shelter. By fostering, you can help a shy animal learn self-confidence, you can help an injured animal heal in a loving environment with extra care and individual attention, and you can nurse new-born animals who have been separated from their mothers and need nurturing care to survive and thrive. By getting to know the animal, you will help us learn more about the pet's personality prior to adoption, enabling us to find just the right home for animals in need. Thank you for considering fostering!
Q: Why do animals need foster care?
A: There are several possible reasons:
Some animals don't do well in a shelter environment because they are scared or need a little extra attention and care.
Newborn animals that need to be nursed or bottle-fed usually need foster care.
Some animals need time to recover from an illness or injury before adoption.
Whatever the reason, these animals need some extra love and care before they can be adopted. Providing foster care for a few days, weeks, or months can be a lifesaving gift for an animal.
Q: What is the time commitment for fostering?
A: 2-3 hours every day when actively fostering, possibly more if fosters are sick or neonates needing bottle feeding, which can be as often as every two hours. The specific needs of the animal will determine how much time is involved. We can discuss your availability to determine what kinds of animals you would be best suited to foster.
Q: Are there qualifications I need to meet to become a foster?
A: We require the following of our fosters:

Ability to transport the animal(s) in for medical treatment on short notice, if necessary.
Ability to administer necessary medications.
Responsible and communicative, always working for the good of the shelter animal.
Able to keep track of due dates and scheduling appointments
Must follow protocol, instructions and policies given by HSSC and/or Foster Dept.
Work with the Foster Coordinators and the shelter staff to support the mission and help the shelter animals.
Must be 18 years of age or older.
Q: What about food and medical care?
A: Foster parents will receive all the necessary food and medication needed to care for the animals being fostered. If an animal requires specific medical care, you will be trained on the proper methods for administering to any of their individual needs.
Q: What about my own pets?
A: You'll want to consider how the animals in your household will adjust to having a foster pet. Some animals do very well with a temporary friend and can help socialize the foster animal. Other pets have a harder time with new animals being added to or leaving the family. You're the best judge of your pet's personality.
For the safety of your pets and the foster animal, it's important to keep your pets up-to-date on vaccinations. In many cases, the foster pet will need to be isolated from your own pets, either temporarily or throughout the foster period. If you are interested in fostering, we can help to determine what's best for your individual situation.
Q: How do I become a foster?
A: If you are interested in being a foster volunteer, please send an email inquiry to Katie McHugh at kmchugh@humanesocietysoco.org. Katie will send you an application to complete, after which you will be invited to attend a Zoom orientation.
Following the Zoom orientation you will be sent a foster orientation video to watch, and the foster department will have you complete a questionnaire that will assist them in ensuring the best match for you. Once you have completed these steps, the foster department will get you all set up for fostering.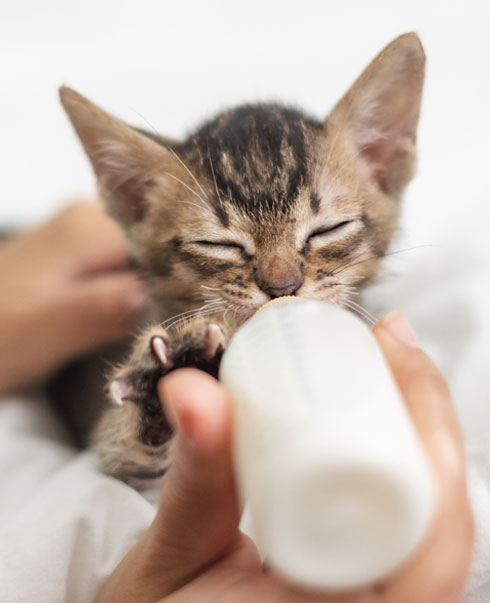 I love dogs and have loved being a dog owner, but since volunteering at HSSC, I have seen firsthand how important it is for certain dogs to have a break from the shelter. They get to relax into a loving home environment, get socialized and civilized – and I get doggy loving! Taking them home for a week or more really helps them get adopted. Keeping dogs moving along in this fashion is very satisfying and also a bit sad, but I know there's lots more where that last foster came from. It's a doggy lending library with big bonuses for all parties!
I love fostering kittens. We get to socialize them and play with them and, when they leave our home, they will be going to their forever homes. Once they go back to the shelter, I get to look forward to my next batch of kittens. I grew up with cats and miss being able to have my own at this time. Fostering allows me to have pets without the long-term commitment. I love knowing we have given them a strong start in life.