Shelter Medicine
Shelter Medicine is a growing field of veterinary medicine dedicated to the care of homeless animals in shelters. With a focus on disease prevention, physical and behavioral wellness, and helping to make the animals in our care adoptable, HSSC's Shelter Medicine team treats a variety of medical needs. From routine preventative care to comprehensive medical work-ups, surgery, and dentistry, we strive to provide the highest quality medical care possible.
Your donations to our Angels Fund support life saving procedures for the animals in our care. We take in many injured and health compromised animals from over-crowded shelters because of our surgery capabilities, allowing us to save animals who would otherwise have been euthanized. Thank you for your support of these vital procedures which ensure healthy, happy outcomes for animals in need.
Our Mission
An important goal of ours is to provide medical care that minimizes the overall length of stay of our entire animal population. This means preventing illness, working alongside our behavior team, containing infectious disease outbreaks quickly, providing support to foster parents, and working closely with adopters so they are able to take over the care of animals who have manageable conditions.
Although we work hard and our days can be long, it is rewarding to know that the efforts of our team truly make a difference for the animals in our care.
Who We Are
Our shelter medicine team consists of three veterinarians, four registered veterinary technicians (RVTs), eight veterinary assistants, and dozens of dedicated volunteers. Shelter medicine staff work closely with animal care, foster, intake & admissions, behavior, and adoptions staff to provide coordinated care to the animals housed at our two shelter locations and in foster care.
What we do
The shelter medicine team stays busy seven days a week, 365 days a year, caring for our shelter population. They begin each day with "shelter rounds" where they check on every animal housed at the shelter to ensure they have what they need and to monitor any ongoing health concerns. Over the course of the day, they perform physical exams, run diagnostics, provide medical treatments, and follow up on existing medical issues. The DVMs perform surgery and sedated procedures, and support staff perform dentals, x-rays, and assist in surgery.
Shelter Medicine Happy Tails
KODAK

Life is full of surprises. You never know who you are going to meet or who will change your life forever.
We don't know what  early puppyhood was like for Moose (now Kodak). We can only imagine his days were full of stress and uncertainty. We do know the moment when everything changed for the better: the day a caring stranger found him running loose in a local park – scared and vulnerable – and brought him to safety at HSSC.
His finder was visiting from out of town, but he asked us to contact him if we had any problems finding a forever home for the growing shepherd pup. One look into those expressive brown eyes and we didn't think we'd have any trouble!
Our intake team set about giving Kodak his first exam. He was covered with ticks; they pulled them from all over his body and ears. He also had an umbilical hernia roughly the size of a tennis ball – a common congenital condition that we could correct with routine surgery at the time of his neuter procedure, if no one came to claim him before then.
No one ever did claim him, but that doesn't mean he waited out his "stray hold"  alone! Like every animal in our care, he received lots of TLC and companionship as we nurtured him along on his journey. To ensure he received copious amounts of socialization, he spent a week with one of our canine foster volunteers until it was time for his surgery.
A lifesaving pivot
Kodak's surgery day arrived and brought with it a major surprise. After his neuter procedure, our Director of Veterinary Services, Lisa Labrecque, DVM, proceeded with surgery to correct his hernia. "As soon as I made an incision over the umbilical hernia and then into his abdomen, I immediately felt and heard a rush of air, which can only be explained by air coming from the chest or lungs. That was my first clue that something more complicated was going on," Dr. Lisa tells us. "I followed the herniated tissue to the diaphragm and saw that it was going through it. I gently retracted the tissue and, to my surprise, the gall bladder followed and then a liver lobe!"
Kodak's abdominal organs had herniated through his diaphragm into his chest cavity. Without the diaphragm intact, Dr. Lisa knew he would not be able to breathe on his own and she had to think fast. She had her technician "breathe" for him by squeezing a reservoir bag on the anesthesia machine to inflate Kodak's lungs every 8 – 10 seconds. She brought another staff veterinarian over to assist in positioning him, so that Dr. Lisa could see his full diaphragm and repair the opening.
Dr. Lisa believes Kodak had "a rare peritoneopericardial diaphragmatic hernia (PPDH), where the abdominal contents move into the pericardial sac, which encloses the heart." On his post-operation x-rays, she could see a significant amount of air in his pericardial sac, "suggesting there was communication between the lungs and the pericardial sac."
The intense surgery was complete. Dr. Lisa and her team monitored Kodak extremely closely to make sure he could breathe on his own while they waited for his body to reabsorb "all the extra air that shouldn't have been in his chest and pericardial sac."
Thanks to their well-honed skills and cool-headedness, Kodak's surgery was a success! He remained under veterinary care for a few days so his healing could be closely monitored. He recovered with flying colors and, if his love of belly rubs was any indication, we knew he was ready to find a home where he could be loved forever!
Chance meetings
Perhaps the biggest surprise of all came to Kodak's adopter, Crystal – she didn't think she wanted to adopt a dog. Her cousin was fostering him and Crystal wanted to show her children "that puppies are not just cute but a lot of work, and it backfired! He was super calm and had a great temperament!"
Now that Kodak is officially a member of Crystal's family, he is living a life full of love and "Kodak moments" – including his first visit to the snow, camping trips, volleyball tournaments (he's the team's mascot!) and "just chilling" with his family. "We take him everywhere," Crystal shares. He recently graduated from HSSC's KinderPuppy class where, as the biggest puppy in the class, he made new dog friends of all shapes and sizes. One of his teachers, HSSC's Canine Behavior Program Manager, Lynnette Smith, says Kodak is "huge, mellow and very food motivated!" How huge? His family did a DNA test and learned that he is 86% German Shepherd and 13.6% Saint Bernhard!
Thank you!
Each animal's journey is unique. Some require intensive behavior support to heal emotionally. Some – like Kodak – require specialized medical care to go on to live healthy lives. But each one carries with them all the loving connections they've made along the way. You make this possible and we are so grateful. From quick-thinking strangers to our dedicated foster volunteers and angel donors – our compassionate community fuels our lifesaving work and changes the animals' lives forever!
TWIST
Twist is part acrobat, part purr machine and 100% kitten! He deftly chases his wand toy, stops to solicit cheek scritches, then commences with his playful leaps and pirouettes. At five months old, he's a  pre-teen" kitten who views the world with confidence and wide-eyed curiosity. And, thanks to your compassion, his world is a whole lot brighter!
Twist was in a vulnerable state and quickly running out of options before coming to HSSC this past September. At his previous shelter, he presented with a condition sometimes known as Orphaned Kitten Prepuce Syndrome. This occurs when orphaned kittens, in absence of a mama, mistakenly nurse on their siblings' genitals. This can lead to scarring and eventually cause damage and obstruction to the urethral opening. This sets the animal up for painful urinary infections and life-threatening blockages but can be remedied with surgery.
Unfortunately, surgery was not an option at Twist's previous shelter. They were overcrowded and faced with making the  hardest, most heartbreaking decisions: Twist and several other kittens with medical issues (including eight with ringworm) would be euthanized unless they could find placement elsewhere. Thankfully, we were able to make room and take them all in.
Our veterinary team went for the least invasive route for Twist – a surgery called Preputial Urethrostomy. HSSC DVM Ada Norris describes the procedure as an attempt "to salvage the anatomy and create a functional urinary system." His condition was so severe, however, that he ultimately needed a second, full Perineal Urethrostomy surgery. The surgery was a success. Twist is healing well and will soon be available for adoption. "He's the happiest little kitten and seems grateful for all our interventions," Dr. Ada says.
This year, we've taken in a high volume of kittens and cats infected with ringworm who had nowhere else to turn. This highly contagious fungus requires lengthy treatment times and strict isolation protocols – resources that are beyond the means of many of our partner rescues. Sometimes these kittens suffer from severe upper respiratory infections, which need to be treated at the same time. At our highest point this summer, we had four full isolation wards between our Santa Rosa and Healdsburg shelters!
What enables us to expand our capacity to take in the most vulnerable animals?
The compassion and coordination of many, including:
Our Beloved Volunteers
Our staff is grateful for our dedicated volunteers who spend several hours a day assisting with dip treatments and socializing of infected cats to help them feel comfortable and loved.
As Saffron Williams, HSSC Feline Behavior Program Manager, explains, "cats who are undergoing treatment for ringworm could, if only given attention during medication, form a negative association with humans. Having consistent visitors who will play with them, sit with them while they eat, and pet and otherwise handle them, ensures that they will have positive experiences with people."
Mary, one of these special volunteers, goes the extra mile and creates disposable toys by hand from recycled materials. While these kitties are living in isolated wards for weeks at a time, Mary and her kicker toys give them much needed enrichment. Our foster volunteers are another reason we are able to save animals when they need us most. They open their homes to animals recovering from illness or surgery – or baby animals not yet ready for adoption – so that we have space to care for more animals in our shelters. HSSC Foster Program Manager Nicole Gonzales is currently seeking fosters to help with some of our most sensitive groups – bottle baby kittens and those with infectious diseases, like ringworm. "Ringworm fostering requires a dedicated space for the animals that can be easily disinfected," she explains. "A spare bathroom or bedroom with tile flooring works well." Foster parents wear personal protective equipment, and we provide all materials and trainings necessary.
Get started on your volunteer journey here: humanesocietysoco.org/get-involved/volunteer-faq
Our Regional Rescue Partners
Shelters across the country have been dealing with an unprecedented overcrowding this year and our area is no different. We salute our North Bay rescue partners who collaborate with us to provide
lifesaving pathways for at-risk animals. At a time when our industry continues to face staffing shortages and other complex challenges, their passion and hard work keeps us moving
forward with strength and hope. We are all in this together!
Our Compassionate Donors
Your commitment to the animals enables us to be nimble and responsive when fellow shelters across California reach out to us and precious lives are at stake. While our industry continues to navigate challenging times, you are truly making a lifesaving difference – you make it possible for us to answer these calls for help. Your compassionate contributions to our Angels Fund go directly toward medical care for animals in need on their path to adoption. Thank you for making our community a safe place for animals to thrive through your loving support.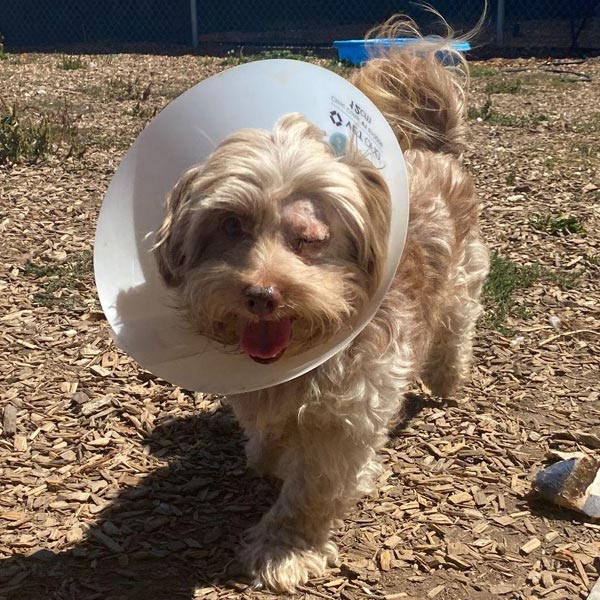 Frozen is a cute 7 year old Lhasa Apso mix who was transferred to us from a partner shelter in Sacramento. He arrived needing a neuter and surgical removal, or enucleation, of one of his eyes. This little scruffernutter was a great patient for our medical team and, as he healed from surgery, Frozen quickly became a volunteer and staff favorite for his friendly, happy-go-lucky nature. It's no surprise that this adorable little guy was quickly adopted within 2 weeks of his arrival! We're so happy we could help him on his path to health and home.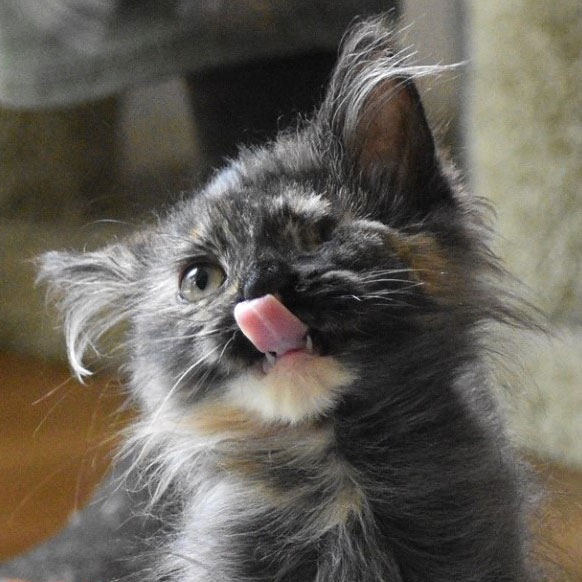 Pinwheel came to HSSC as a stray, she was found near some grape fields in Geyserville. Weighing less than a pound this poor baby was covered in fleas and mites and had a terrible upper respiratory infection that spread to her left eye which caused it to rupture. She was by far too small for surgery, so our Shelter Medicine team started her on antibiotics and pain medication to keep her comfortable while she grew.
She was immediately placed into foster care. Two of our staff members shared responsibilities taking this sweet girl home to feed her and keep her wounds clean. They named her Pinwheel. After a few weeks of loving care, she was big enough to have the surgery to ennoculate her eye. Little Pinwheel recovered well and was adopted by one of her foster parents who also works on our Shelter Medicine Team!
Pinwheel is now named Penny and she's living very happily with her new family which includes her new best friend, another HSSC Alum cat named Nolan, who loves her, grooms her, and is by her side every day!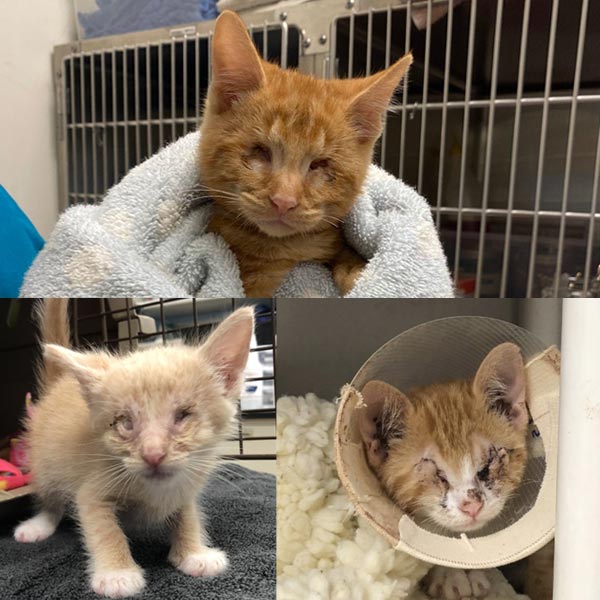 This trio of kittens came in with severe conjunctivitis. We started them on treatment and as the swelling and discharge started to resolve it became apparent that their eyeballs were abnormal. Two of the kittens (the two lighter buff colored ones) have a condition called microphthalmia which means that their eyes are smaller than normal and may not be properly developed. In the case of these two kittens their eyes were so small it's hard to tell if they have eyes at all and are likely blind or have very impaired vision. The third kitten's eyes were enlarged (buphthalmos) and his corneas had some chronic changes so we did a bilateral enucleation or surgical removal of both his eyes at time of neuter. They recovered well from surgery and were quickly adopted.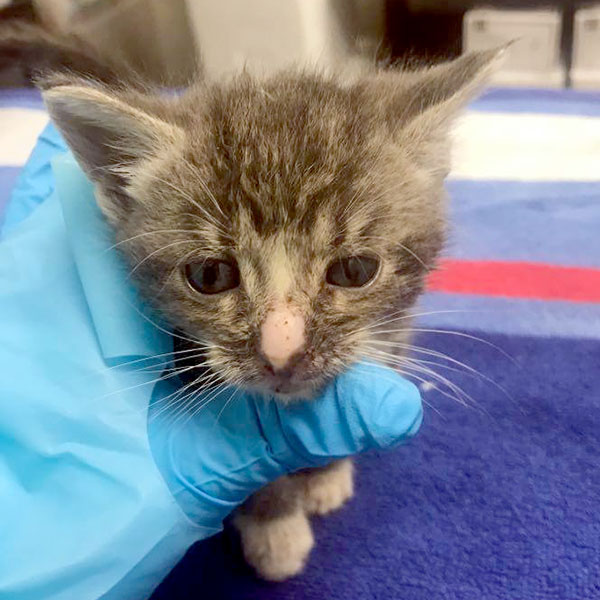 Pony Boy became a favorite of the shelter medical staff after many hours caring for him. As a very young kitten, he experienced trauma to his genital area that affected his ability to urinate. He went out to a loving foster family for close monitoring until he was old enough for anesthesia. When he was ready, our shelter medicine team performed surgery to widen the opening of his prepuce so he could urinate with greater ease. Following surgery, he was gifted with a snazzy vest called a Suitical that helped him with his healing process. He was the most fashionable cat at the shelter! Pony Boy recovered well from his surgery and we were all very happy to see the playful, loving, older kitten he had become! Once he was officially cleared for adoption, Pony Boy was quickly scooped up by a new, loving family. We couldn't be happier for this sweet boy.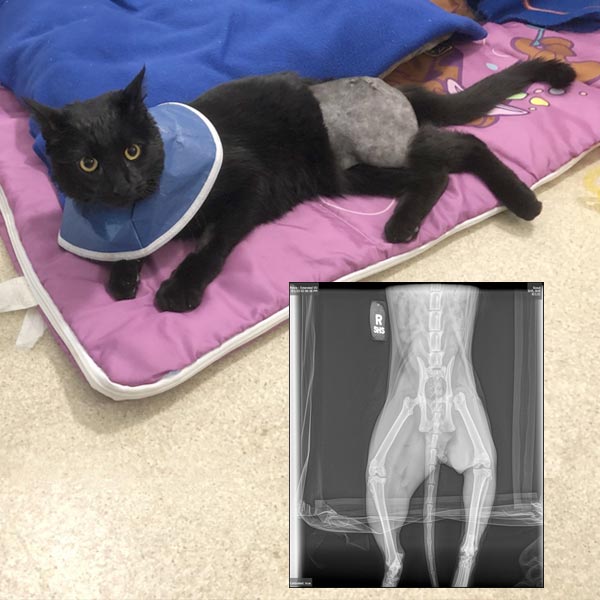 Scout came to us with a broken hip that required a surgical procedure known as a femoral head ostectomy (or FHO) to fix. In this procedure the head of the femur is surgically removed, and fibrous scar tissue forms to stabilize the joint. This is a not uncommon surgery that can help an animal regain comfort and mobility. During the initial recovery period he will receive physical therapy by our staff to help him regain strength and mobility.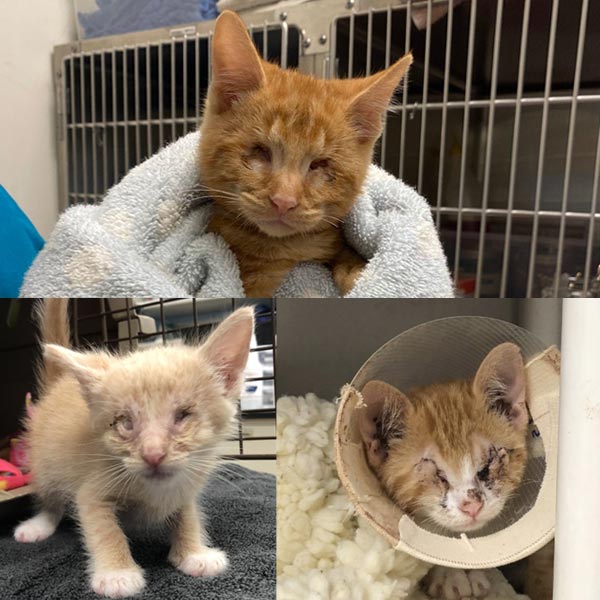 This trio of kittens came in with severe conjunctivitis. We started them on treatment and as the swelling and discharge started to resolve it became apparent that their eyeballs were abnormal. Two of the kittens (the two lighter buff colored ones) have a condition called microphthalmia which means that their eyes are smaller than normal and may not be properly developed. In the case of these two kittens their eyes were so small it's hard to tell if they have eyes at all and are likely blind or have very impaired vision. The third kitten's eyes were enlarged (buphthalmos) and his corneas had some chronic changes so we did a bilateral enucleation or surgical removal of both his eyes at time of neuter. They recovered well from surgery and were quickly adopted.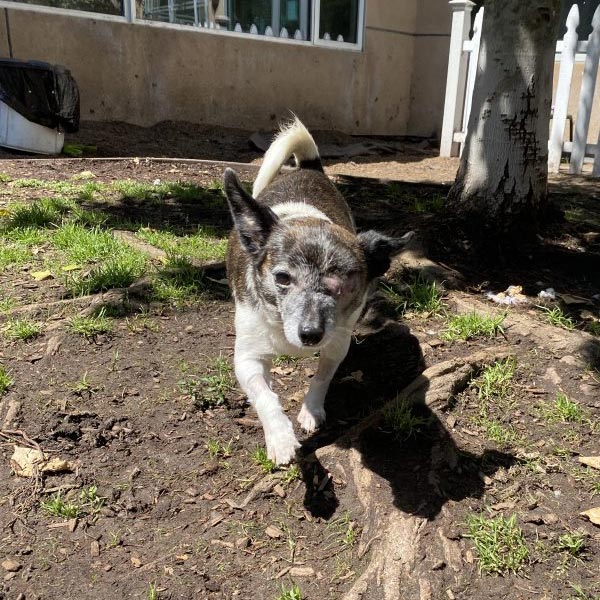 Moira the sweet little chihuahua came to us needing one of her eyes removed along with some small mammary masses at the time of her spay. It turned out that she was heartworm positive as well. She did great during surgery  and is in the middle of treatment for her heartworm. Heartworm is a worm like parasite that is transmitted by mosquitoes and lives within an animal's bloodstream (most specifically the right side of their heart). Treatment for heartworm consists of several components spread out over a number of months so we make them available and continue the treatment post adopt.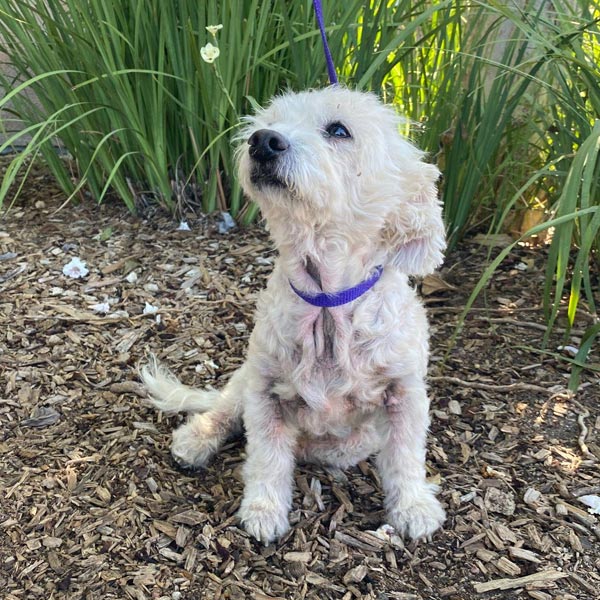 Fluffy came to us with chronic skin issues. While in some cases skin issues can be secondary to various metabolic disease or parasites like mange, but oftentimes they are due to allergies. Dogs and cats have three main types of allergies affecting the skin. Flea allergy dermatitis is an allergy to saliva of a flea and a single flea can cause a big flare up. Food allergies are another large category that can cause skin issues. Last of all is allergies to something in the environment (pollens, dust mites, etc) and is called atopy or atopic dermatitis.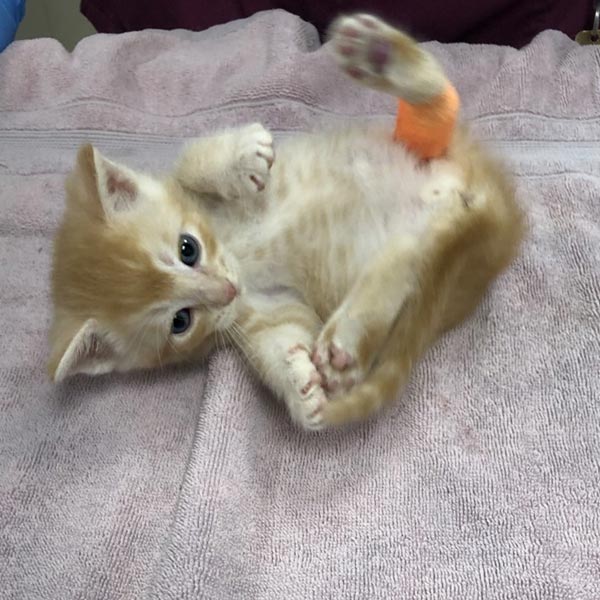 This cute kitten needed a blood draw today and was very dramatic about his pressure wrap that was put on afterwards.