Amazon Wishlist
Donate  to animals in need through our Amazon Wishlist! *Orders can be shipped directly to the Humane Society of Sonoma County.
*Note: For your privacy, Amazon.com does not provide us with customer information. If you purchase something from our Amazon Wishlist, please forward your receipt to giving@humanesocietysoco.org so we may properly thank you for your gift!
Donate a Dog Bed
We have chosen Kuranda beds for our canine habitats because they are so good for our dogs. They are comfortable, easy to clean, and easy on the joints and muscles. Unfortunately we don't have enough for all of our dogs. If you would like to donate a bed, please place your order for a donated bed here. You can also help our animals by purchasing a Kuranda bed or fleece for your dog or cat and they will donate a portion of the sale directly to us!
Donate Cat Scratch Boards
Cat scratch boards are great enrichment tools for our cat population. The boards help to relieve stress, provide entertainment, and help to keep our cats engaged and exercised. We use cat scratch boards in our shelter hospital and on our adoption floor, and we never seem to have enough to go around. If you'd like to donate scratch boards to HSSC, click here!

Donate a Thundershirt
Thundershirt's gentle, constant pressure has a dramatic calming effect for most cats and dogs if they are anxious, fearful, or over-excited. Based on surveys completed by over two thousand customers, over 85% of dogs show significant improvement in symptoms when they use Thundershirt. Click below to purchase a Thundershirt for only $27.00 (discounted from the retail price of $39.95) with FREE shipping. They will send it directly to the Humane Society of Sonoma County!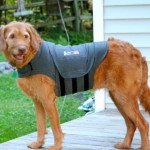 AmazonSmile
AmazonSmile is a simple and automatic way for you to support the Humane Society every time you shop, at no cost to you. When you shop at smile.amazon.com, you'll find the same low prices, vast selection, and convenient shopping experience as Amazon.com with the added bonus that Amazon will donate a portion of the purchase price to HSSC!
iGive Online shopping is fun and easy. Shop at your favorite stores through iGive and we'll receive up to 3% of the total of your purchases at the following stores: Apple Store  |  Banana Republic  |  Bed, Bath & Beyond  |  The Gap  |  Coldwater Creek   |  Crate & Barrel  |  FTD Florist  |  Home Depot  |  L.L. Bean  |  Pottery Barn
Sonoma-USA repurposes our promotional banners to create super cool bags and accessories. Their mission of sustainability helps reduce waste destined for landfills and also helps support non-profits. For every product made from Humane Society of Sonoma County materials, 5% of the proceeds come back to support the animals! Shop here!
Admit it … you love food. Who doesn't? While you're gathering ingredients for a family meal you can also help feed homeless animals at our shelter! Check out these great options:
Oliver's Market | Fircrest Market | Petaluma Market | Sonoma Market | Glen Ellen Village Market
Support the Humane Society of Sonoma County every time you grocery shop by signing up for eScrip! Once you register, up to 5% of your purchase amounts will be donated to HSSC! Here's a video with more information: Help Our Group Earn
Dine & Donate
Tired of the same old thing? Support your community by dining at local restaurants and support the animals of the Humane Society of Sonoma County at the same time! We'll promote these special events on our Facebook page.